Call Us : +91 22 66792896, +91 9867960169, +91 9892256045, +91 9769707383.
FORMMASTER Lock Forming Machine Model: LFMC18 comes with outboard extension shafts on both side of the machine.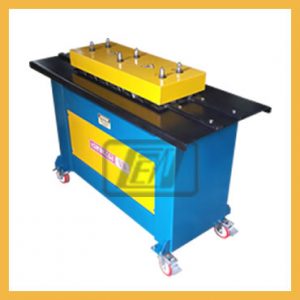 Features:
Two forming positions on either side of machine chassis plate.
Heavy duty machine chassis plate.
Thrust bearings through out to eliminate friction and increase life span.
Easy & quick change over of auxiliary roll tool set.
Ground, CNC machined chassis plate for greater accuracy.
Dimensions: L 50" x W 22" x H 40" L 1250 x W 550 x H 1000 approx.
Weight: 300 Kgs (approx).
CITIZEN ENGINEERING WORKS
Manufacturer of Sheet Metal Machines,
HVAC Duct Fabrication Machines
& Roll Forming Machines